AA Discount Computer Services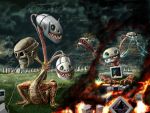 (516) 922-5739
Why You Should Use Antivirus Software
In this day and age of ever-changing technology, there is a lot to think about when it comes to the security of your computer as you surf the web. Whether you're downloading a document, installing a program from a web site or using email, you should always be wary of any attached files. While email is the number one transport medium for viruses, there are several other ways your computer can get infected. An antivirus program will scan your email or other downloaded files before you open them to make sure they are virus-free. It's all about prevention.

How does a Virus spread?
While there are many ways a virus is spread, these are the most common:
? Email: First, be sure the email you're opening is from someone you know, as email addresses are often made up to trick an unsuspecting user. Secondly, if there is an attachment, use your Antivirus program to scan it before you click on it so you can be sure it is clean of any viruses. Be wary of .exe, .pif, .bat, .com, .hta, .vbs, and .scr attachments, since viruses are usually sent in those file formats.

? Infected disks: Before you open that document on the floppy disk you just inserted, put your Antivirus program to work! Make sure you aren't copying anything else that may be attached to the document.

? File Transfers/Web Downloads: Whether a file comes from instant messaging or going directly to an ftp site, be certain that it is free and clear of any viruses by scanning it first. Recently, many viruses have been spread across peer-to-peer networks like Kazaa - beware of what you download!

What does a Virus threat mean to me?
In the past, viruses were known to destroy data or crash computers. Most of today's viruses and worms are designed to spread fast and infect users in way that can allow outside users access to your machine. Some other infection side effects include:
? System Instability
? Back doors/remote control access
? Spam "Zombies"
? Data Loss
? Exposed Personal Information

When an outside user has access to your computer, they can perform any task they wish on the Internet - all the while hiding behind your machine. So, if a hacker was attacking the Pentagon and using your system to perform the task, guess whose door the police will knock on? Moreover, any malicious activity from your connection might get you in hot water with your ISP.

Key Features to look for in an Antivirus Program
? Scans and cleans both incoming and outgoing email messages.
? Automatically removes viruses, worms, and "Trojan horses."
? Detects and blocks viruses in instant message attachments.
? Downloads new virus protection updates automatically to protect against new threats.

**Antivirus software must be kept up to date, since it's only as good as its definitions.**

There isn't a total computer security solution, but rather a few steps that the average home user can take to increase the security of their systems. In addition to antivirus software, you should update your operating system with software patching, and install a software firewall. All these components, while working together, will ensure your computer's best possible health.
All PC's are Custom Built to Your Specifications!
Economy Package
Cooler Master Mid-Tower Case w/430 watt
Intel Core i3-2100 3.1Ghz processor
Asus H110M Motherboard
4Gb Corsair XMS DDR3 1600 Memory
Asus 24x DVD Burner
Western Digital 500GB 7200RPM Hard Drive
From $639.99
Basic Package
Cooler Master M-ATX Case w/ 500 watt power
Asus H110M Motherboard
Intel Core i5-3470 3.2Ghz Quad-Core Processor
8Gb G.SKILL Ripjaws DDR4 2133 Memory
Western Digital 1TB SATA 7200RPM Hard Drive
Asus 24X SATA DVD Burner
From $799.99
Pro Machine:
COOLER MASTER HAF 912 Black Case
Thermaltake 850 Watt Power Supply
Asus Prime Z270 Motherboard
Intel Core i7 4.2GHz Cpu
G.SKILL Ripjaws 8GB 3866 Memory
Western Digital 1Tb Hard Drive
SAMSUNG Solid State 500Gb HD
Asus 24x Sata DVD Burner
From $1,399.99